| | | |
| --- | --- | --- |
| | COL DES SAISIES (from the South) | |
| | The ride between chapels in Beaufortain | |

I am pleased to present you another Col: Le Col des Saisies. It is a way to join "Haute-Savoie" from Albertville. There are many possibilities to climb it from the south with different roads. For example, Tour de France in 2000's climbeb it on the standard road. I prefer to show you the ride passing by a wood bridge... Perhaps you don't know it especially, perhaps you know this ride... So are you ready for the departure? We are in Albertville. Can you see the climb on the following map...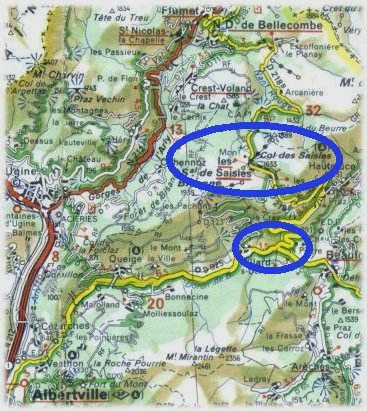 On the main road N212, take the departmental road D925 towards Beaufort...
Perhaps you know this road. It is called "Route des Grandes Alpes" which goes from Thonon to Nice. In 1996, FFCT organized a mountain brevet (BCMF) which took this road until Beaufort. For the moment, the ride is pleasant, no difficulties except just after exiting Albertville...
This road follows the river called "Le Doron". Many villages in this valley have "Doron" in theirs names. For example, we say "Beaufort" but actually it is "Beaufort sur Doron"...
It is warm, no clouds in the sky, but water available in the torrent on your right...
Later the climb becomes easy. You left "Queije" on your left with the chapel "Saint Anne".... Now please continue the ride! Two riders undertook you, a man and a woman...
On the previous picture, you could see "Villard sur Doron" with its chapel "Saint Pierre". On the right, a cow is watching you... Enjoy...
We are going to leave the main road. We are going to climb on the left, yes, a good climb as you can see. No problem for you if you have a triple! In 1996, we followed this main road until "Beaufort sur Doron" and I remember to climb the col with a Tandem...
After one cow on your right previously, here are "Tarines". "Tarines" is the name given to cows in Beaufortain. We recognize "Tarines" with their brown color. If you continue this road after "Beaufort sur Doron" until "Bourg Saint Maurice" passing by "Cormet de Roselend", you will be able to see "Tarines"...
It is hot! The sun is here, in your computer. You look the computer, with the pointer in your right hand, but yes, you are on the bike, the pointer is your handlebar. Here is a large bend...
Later in the climb, we leave again this road to take the little one towards "Les Vanches". You will be quiet on this little road...
I don't know if "quiet" is the good word. Here is a horse on the road. Your speed is so slowly, you will be able to avoid this poor horse...
We arrive to this little wood bridge. After the road becomes tiny and the climb continues...
After the end of the forest, we begin to see first houses of the next village: "Hauteluce"...
You are late! If your lastname was "Pantani", you would be already arrived to the top. But your prefer to take your time, and to admire Hauteluce with its chapel "Saint Jacques" from XIIIème and XIXème centuries...
In the village, take on your left. The road begins to descend but continues to climb towards "Les Saisies"... In Hauteluce, there is a road which climbs towards "Col du Joly" but this col is not a standard col. It is called "MULETIER" in French and you need large tyres to ride it...
We find again the main road which continues to climb...
Later, the road becomes wide and we begin to see first chalets of "Les Saisies"...
This is the beginning of the end! We enter in "Les Saisies". On your left, there is a road which comes from "Villard sur Doron", another possibilities to climb this col...
We pass under a bridge where skying runs are...
And we arrive to this place: Col des Saisies. We are at 1650 meter of altitude with no trees...
Congratulations for this climb. If you enjoy it, you may have a look to the climb from the north side by following this link...